Thomas Nygard Gallery brings both buyers and sellers together in a professional environment. Now in our 3rd decade of business bringing unparalleled connoisseurship, scholarship, and personal service to the public, corporations and institutions worldwide.
Collectors rely on our gallery standing behind its guarantee of authorship of artwork. Clients are given a full curatorial report as well as detailed information on the artist. Acquiring a work of art is a very personal experience; our goal is to keep our clients long term collecting interests in mind.
We not only assist in the initial acquisition of artworks, but can also help out when the time comes to upgrade, liquidate or reevaluate the emphasis of a collection. Sellers can be confident the Gallery will pay a fair and competitive price for individual pieces, collections or estates. Additionally, we can consign works for sale at competitive valuations.
Respecting the privacy of the buyer and seller is a foremost consideration. We protect are clients anonymity but at the same time provide a respected and highly marketable venue you can depend on.

Frames are an important part of pictures and are often times overlooked. Thomas Nygard Gallery offers the finest authentic antique frame designs, handcrafted replicas of antique frame mouldings and custom created patterns through our suppliers. The Gallery can also assist in repairing and refinishing old and damaged frames.
With an expert knowledge of framing artisans and traditions the gallery assists clients in obtaining fine period and reproduction frames which best suit the character of their painting.
Our experts are available on a consultation basis to help you administer, preserve and build your collection. Serious collectors know well that collecting can be consuming. Most do not anticipate, however, the copious amount of labor their passion can require.
The gallery can provide advice so you can take charge of important details: cataloguing, appraisal, restoration and conservation, insurance, installation, lighting, lending, donating, research and many of the other related matters that are part of collecting fine art. We assist in all stages of collecting down to the minutest details such as proper storage. No aspect is too small or ignored.
Curatorial management is an often times overlooked element in the field of fine art collecting. Collectors derive immeasurable aesthetic pleasure from their pastime. The Thomas Nygard Gallery is available to help clients get the most value (emotional and monetary) out of their art by helping with the administration.
Having a well-recorded and cared for collection can be extremely important and helpful in the matters of estate as well. Whether you are a new or sophisticated collector we can assist in helping you build and maintain your collection.
Fine Art Packing and Shipping
The Thomas Nygard Gallery includes a devoted shipping and receiving department. A professional fine art handler capable of managing any shipping need staffs the gallery. They take extra care and due diligence to ensure your prized collectibles arrive safely.
We offer a large number of in-house packing and freight options. The gallery also networks with the finest art handlers in the country and can orchestrate shipping in your area. The gallery can assist in any fine art shipping need be it a monumental size statue or a miniature painting.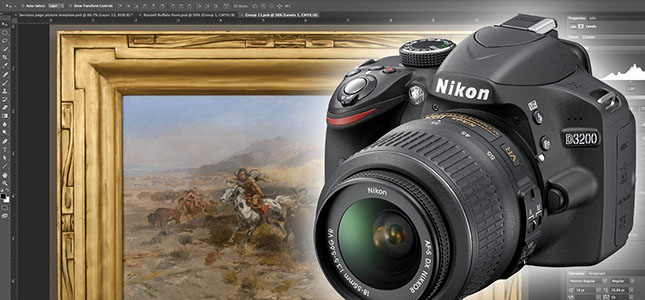 Our in house professional photographer brings over seven years of fine art photography experience, allowing us to provide you with high quality images of our inventory for your review.
For curatorial, appraisal and insurance purposes it is important to have quality photographs of artworks. Thomas Nygard Galley is also experienced in reproducing images electronically for high-speed digital transfer via the Internet. A thorough command of technological tools allows for exacting detail and color attributes.
Photographs can also be an important part of the conservation and restoration process. For more important works of art, complete documentation, including photographs before and after restoration can be critical in recording work performed. Whether you are interested in a single photograph for any of the aforementioned reasons or would like a record of your entire collection the gallery is at your service.
On special request, for a nominal fee, we will accompany, or represent, collectors to an auction to facilitate the acquisition of art. We can educate, inform and assist in examining the condition and value of the artwork. Coupled with a myriad of other subtle nuances, we aid in the complex decision to acquire a work, or not, in the brisk pace of public auction. Conversely, the gallery can assist in placing works of art for sale at auction. We attend all major American Paintings auctions and are available to help you.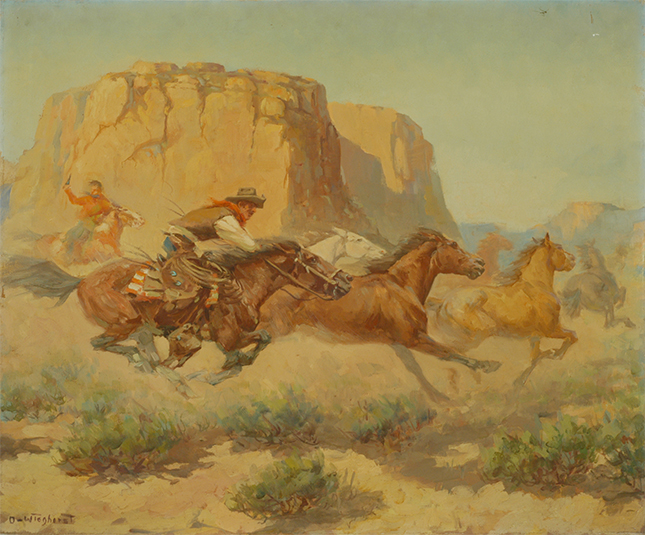 - Slide arrows to reveal full piece -
The Gallery is experienced in assessing the condition of artworks and recommending necessary treatments. One of our most valued services is access to the finest art conservation and restoration professionals in the world. Expertly trained with years of experience, they clean, restore and skillfully remedy the more complicated issues of art restoration.
Please contact us for pricing and any inquiries about our services.